Reports List
Utilisation Ratio
The "Utilisation ratio" report is designed to analyze the degree of utilization and the cost of executors who are involved in the business process. The report is based on the business process simulation results. For each executor displays the following information:
Employment time - the amount of time spent by resources to perform assigned functions.
Employment cost - the amount of costs spent on the resource to carry out assigned functions. Currency value depends on the application language settings.
Utilisation ratio - the percentage of time of employment to the executor's shift period.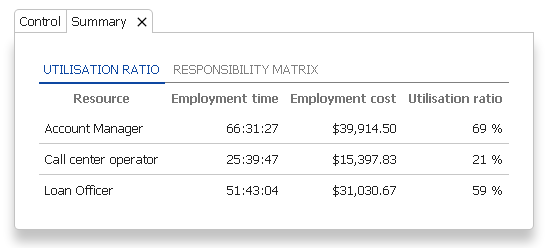 Responsibility Matrix
The "Responsibility Matrix" report is intended to form the matrix of performers of the business process functions and is a component part of regulations for its implementation. It contains a list of all functions of the business process and a list of all executors. If the executor is involved in executing the function, the symbol "X" is placed at the intersection. The report is based on the visual business process modeling results.