Object Library
Object Library is intended to simplify visual modeling and actualization of business processes. Centralized repository functionality allows storing of shared objects in a library, such as: executors, resources, input/output and regulations. When designing a new model, you can add objects directly from the shared library without creating them again. When resources of the organization has changed, such as changing the amount of personnel in an unit, after updating the library these data will be available to upgrade in all involved business processes. The BP Simulator service provides a simple tool of single repository to improve the productivity of process modeling.
Location
The menu item "Object Library" is located in the "View" section of the Control Panel of an application.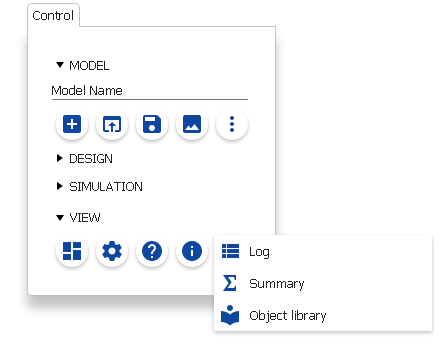 Screen
The Object Library screen includes of the following components:
Filter of the objects list
The modeling objects list
Toolbar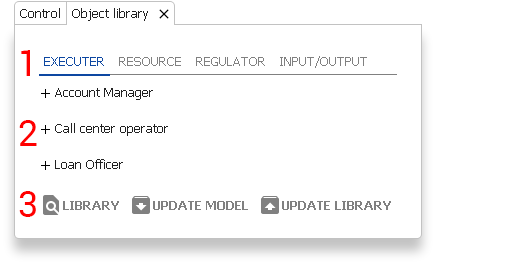 The filter of the objects list displays current filtered types of objects: executors, resources, input/output and regulations. To select a specific object type, click on its name.
The list of objects displays all objects of a certain type of objects stored in a library. List item can be placed on an editable field model by clicking or dragging to a process model. The existing element of model can't be added. To copy a model objects use the Copy button on the object's settings screen.
Toolbar
The "Library" button is used to select the data source of library. By clicking the button opens a file selection dialog, which is designed for data storage library. Interface of a file selection window depends on the "Personal storage" properties of an application settings. The data source is special created in the application file with the "json" extension.
The "Update Model" button compares the list of all libraries objects and the current model objects. When the coincidence of an object instance, the model object data will be updated the same data of a library object. The operation is reversible by using the Undo command.
The "Update Library" button create or update instances of objects in the library from the current process model. If the file repository libraries have not been set, it will first be asked to create it. The operation is irreversible, use the backup functionality of data storage to restore the library state.